CLICK IT's TRAINING PROGRAM
Schedule D
Our initial franchise management training program is available to all franchise owners and up to two persons or other persons, we agree upon prior to the start of training. Before opening for business, you must attend and complete the initial franchise management training program to our satisfaction.
Click IT's Pre-Opening training consists of three phases lasting a total of 40 hours, 20 hours in the classroom, and 20 hours of on-the-job training. Training will take place at the Click IT's headquarters.
The entire three-phase training program uses an online calendar to schedule our franchisees' participation.
All training must be completed one week prior to the opening of your Click IT Store.
Click IT provide our initial training at no additional charge to our franchise owners and up to two additional personnel associated with the franchise. It is recommended that the principal(s) in addition to employee(s) of the franchise store attend and satisfactorily complete all the initial training.
We do not maintain a formal training staff. Training will be provided under the direction of AL Harlow, our President, and other persons as needed, whose backgrounds are described in Item 2 of this Disclosure Document. AL has over 20 years of industry experience. Employees of the Company and other existing franchise owners may also participate in providing training to new franchise owners and their employees.
We can reschedule the dates of our training to accommodate your needs, but since we offer group training for up to 10 people in our training facility in Chagrin Falls, we may not be able to move the scheduled class easily since we managed our training schedule ahead of time online. As of the date of this Disclosure Document, below is an outline of the training program. Subjects will be provided to all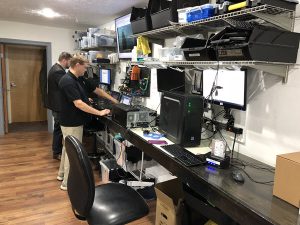 franchise owners and their employees as displayed below, but as you get closer to knowing the date of your store opening, we will develop a schedule around those who have bought a franchise inside your time constraints. See https://events.clickitcomputer.com/events/category/franchisee-training/list/.
You must be present physically throughout your training at Click IT's headquarters location in Chagrin Falls. Accommodations can be found by visiting https://clickitgroup.com/contact/map-of-surrounding-area/, where you will find coupons to help you plan your stay with us here in Chagrin Falls.
Click Here to open the PDF Document shown below in a new tab.
Note 11 - Click IT Training Program